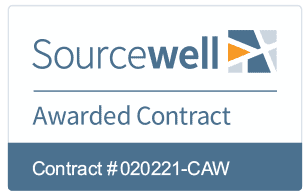 CalAmp is an official Sourcewell* partner (contract number: 020221-CAW) for Fleet Management and Related Technology Solutions. Our fleet management and Platform-as-a-Service, CalAmp Telematics Cloud, is available to municipalities through established contract pricing from a competitive RFP process. A multiyear contract is required. Please contact us for additional information and pricing at govinfo@calamp.com
Track your mixed fleet assets, reduce operational costs and improve productivity with a GPS/AVL system fully integrated with your own Esri ArcGIS map data.
Take control of your operations with a complete, real-time view of vehicles and mobile resources that displays current location and status of fleet assets, along with address, sensor and other attribute information such as plows, PTO, spreaders, driver ID and other inputs.
Lower costs by managing vehicle idle time, streamlining vehicle maintenance and improving driver behavior.
Generate on-demand and scheduled reports with a robust offering of tabular and graphical formats.
Real-time access to engine trouble codes and other advanced vehicle diagnostic information through an OBD-II or J-bus interface.
Monitor driver behavior and idling that impacts operating costs and wear and tear on your fleet.
Share data with all types of third-party applications including work orders, maintenance, scheduling, dispatch, routing, GIS and third-party databases.
*Formerly known as National Joint Powers Alliance (NJPA)